Have you ever wanted a personalised iphone case but you didn't know what photo or design to have printed onto it? …well we've come up with a trendy new collection of personalised initial iphone cases made exclusively yours with your own initials. They even come with a stylish marble patterned background!
Personalised initial iphone cases allow you to choose up to a maximum of 3 initials and there are a range of different designs to pick from. Some of these are pictured below. The overall look will add a touch of chic to your tech. The bold lettering works well against the muted marble background, and with black, white, and pink to choose from, there's plenty of options to suit everyone's style.
Why choose our cases
Slimline, yet remarkably protective, our cases are more than just a pretty face. Whether you choose our classic snap-on style in either white or black, or a wallet-style case for the ultimate wrap-around protection, they will do a fabulous job of protecting your pride and joy. Whichever style you choose, we'll also include a free screen protector and cloth to ensure your phone feels truly pampered.
How to order
All you need to do is visit our phone cases page, click on the initials phone case, choose your design and away you go! Choose from a range of models from iphone 5 all the way up to the latest iphone X, XR, and XS Max. A preview of what this will look like is shown below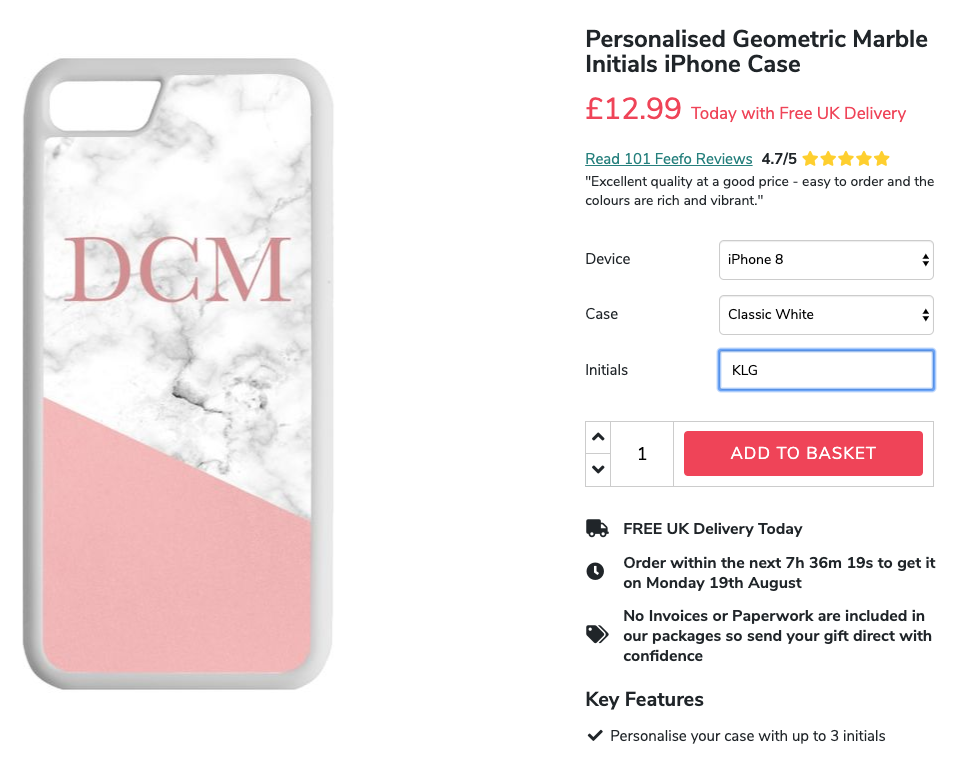 Prices and delivery
Prices are £12.99 for the classic cases and £14.99 for the wallet cases
With a range of super-swift delivery options, your phone case can be with you as soon as tomorrow! We do also offer free delivery if you're in no hurry – however we think you simply won't be able to wait to put this fabulous personalised phone case straight onto your phone and start showing it off 🙊🙊🙊
So what are you waiting for? Order yourself a new phone case today and ensure it's all about you by personalising it with your initials 😇