Exciting news…multi-pack photo coasters are back and better than ever!
You now have the ability to purchase multi-packs ranging from singles to packs of 2,3,4,5, and 6 across different styles of coasters.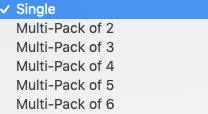 The different styles available are wooden square coasters, wooden circle coasters, black border glass coasters, and silver border glass coasters. The wooden coasters are 9x9cm and the glass coasters are 10x10cm
Prices
Price savings between single coasters the various multi-packs are shown below in the grid. The more you buy the cheaper they get, so you can upload photos until your hearts content! Whether it's photos of a recent family celebration, a summer holiday, or even just snaps on your phone that you've been meaning to print. The more you print, the more you save 😀
Creating your coaster multi-pack
To create your coaster multi-pack you firstly need to select the number of coasters you want using the 'quantity' drop down. You will then see the dynamic editor update to show the coaster numbers on the left hand side. You can click between each one to upload and edit your photos. An example of this is shown below for you. Once you are happy with all of your coasters, simply click add to basket
You also have the option to repeat your photo on all of the coasters in the multi-pack so you don't need to upload multiple times. It will simply replicate the image. Nifty hey?
This is shown as a tick box which is also illustrated below
So what are you waiting for? Create your own multi-pack of coasters today and showcase your memories in your home. They are a fab gift for friends and family, but also work well as a little treat for yourself to brighten up a space and make it that extra bit personal to you.